Coins.
Posted by
capricorncandy
on January 10, 2019
DAPS
development is progressing steadily. As we have announced already,
closed beta testing
is scheduled to launch early in the new year and after bug fixing is completed we will be launching mainnet in Q2, likely ahead of schedule.
The unique Proof of Audit protocol has come alive! PoA is no longer just a concept, but fully functional and automatic.
We are excited to show you this in action in the video below. First, you will see a PoS block, then a PoA block.
These blocks are generated automatically, the same way it will in the live blockchain
.
The explorer shown is a placeholder explorer for ease of testing.
With this, we are glad to say we have a fully functional proof of concept and feature foundation to build the full mainnet on.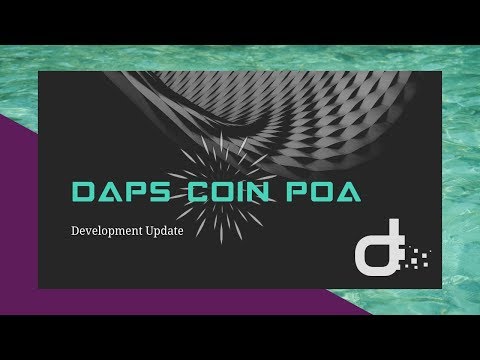 Summary of the video:
PoA miners are automated and remote CPU miners.
PoA blocks are generated by the miners in an automated fashion like a functional blockchain, not utilizing user commands.
PoS blocks are added to the chain while the PoA block is being mined.
No pausing of the network is required for PoA blocks to be generated.
We now have a closed devnet running with all the main factors such as:
Keychain daemon and GUI wallets.
PoW for the initial pre-mine.
PoS fully functioning.
Masternode deployment activated.
PoA miners available, creating PoA blocks automatically.
Blockchain fully functional, new blocks including PoA blocks created and added to chain automatically.
We are using a generic explorer for now while our new explorer designs are being finalised. Part of our block explorer design below:
We are extremely happy to have the keystone of the HARPOCRATES protocol working and running in real time. This is an incredibly important step for our project and represented one of the largest hurdles in creating the DAPS Coin itself. As PoA strives to become the new standard for privacy coins, we will work to ensure it lives up to and beats all expectations.
We look forward to you being able to run your own PoA miners in
testnet
and beyond!
DAPS Telegram:
https://t.me/dapscoin
DAPS Discord:
https://discord.gg/w898czA